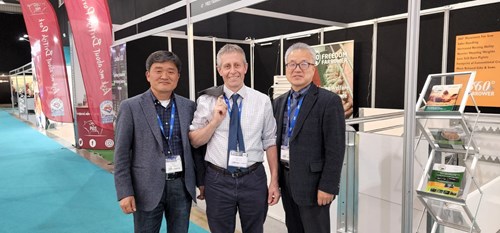 South Korean Business Purchase IP Rights to 360 Freedom Farrower
Added at 15:04 on 10 January 2023
Livestock equipment company, WinDouble Co.,
based in Seoul, South Korea, has purchased the
global patent, design and trademark rights to the 360°
Freedom Farrower® from the Leavesley Group.
The decision to close down their pig farming operations, along with
the subsequent streamlining of their agricultural business, has led the
Leavesley family to reluctantly consider the novel farrowing system to be
no longer relevant to their core business activities.
The deal, which has been brokered by Leavesley Group agent Mr
Andrew Atkin of Free Farrow Ltd, brings to an end a long relationship
with a product conceived and developed on the Leavesley Group farms
over the last decade.
Commenting on the sale, Mr Atkin said: "The 360° Freedom Farrower®
arrived a little ahead of its time, but we have always believed in this
unique product and its potential for replacing the traditional farrowing
crate. Having established a foothold across many countries, the time
is now right for a focused business to take this product forward into a
developing market".
Windouble Co., will not only seek to capitalise on changes to welfare
requirements in Western countries, but also sees opportunities to market
the farrowing system throughout SE Asia, along with the complete range
of pig farming equipment.
Windouble Co. CEO, Mr Hee Kwon Yoon and investment partner Mr
Hayong Choi, said: "We are very pleased to have secured this excellent
product and we aim to provide the most cost eff ective solution to farmers
looking to replace their farrowing crates".
Mr Atkin will continue working with the new company in an advisory
and agency role. To this end, the decision was made to exhibit at the
forthcoming UK Pig & Poultry Fair under the "Free Farrow" label.
Refl ecting on this decision, Mr Atkin said: "We are acutely aware that free
farrowing systems are not at the top of farmers priority lists at the present
time, but we feel that it is important to let producers know that we are still
here as a space effi cient alternative to the farrowing crate and we are
looking forward to discussing the options with those producers who are
planning for the future".